Welcome to Petersburg.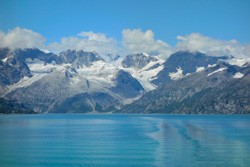 Petersburg Alaska is located in the heart of southeast Alaska's Inside Passage at the north end of the Wrangell Narrows, a 22-mile channel that is only 300 feet wide and 19 feet deep in places, the center of Norwegian culture in Alaska. Petersburg Alaska is an island community that continues to make a living from the sea. Petersburg have three beautiful harbors which attract the smaller cruise ships, private yachts and pleasure boats to town in the Alaskan summer months. Take a trip to this thriving fishing village with a strong Norwegian heritage or visit hardworking and friendly residents and learn about our abundant marine life.
Petersburg is located on Frederick Sound near the summer feeding grounds of hundreds of humpback whales. The Stikine-LeConte Wilderness Area, with the spectacular LeConte Glacier calving off tons of bright blue icebergs, is just a short boat ride away.
Petersburg lies across Frederick Sound from a spectacular glaciated wall of alpine peaks, near the summer feeding grounds of hundreds of humpback whales. Nearby LeConte Glacier discharges icebergs to the delight of visitors. To the south is most of Mitkof Island, where a road system leads visitors to U.S. Forest Service campgrounds, hiking trails, fish ladders and a hatchery and a trumpeter swan observatory.
LeConte Glacier
The LeConte Glacier is the Northern Hemisphere's southernmost tidewater glacier. LeConte Glacier is extremely active and is well known for its "shooters". There are icebergs that calve off the glacier under water and shoot up to the surface. LeConte Glacier is part of the much larger Stikine Ice Field which extends back across the mountains into the Stikine River valley.
Whale watching
As Petersburg is located on the south end of Frederick Sound Alaska, where many humpback whales summer, it is an ideal starting point for whale watching. Although it's less comfortable to be out on the sound during rougher weather, days with lots of waves are better for seeing aerial displays.