Cruises to Ketchikan.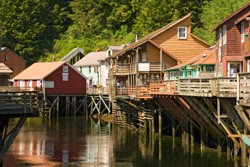 Ketchikan is known as Alaska's "first city" due to its location at the southern tip of the Inside Passage. It is the first city you reach as you cruise north, and for many visitors, their first introduction to the beauty and majesty of Alaska. You will not be bored in Ketchikan. With dozens of attractions designed to educate and/or entertain everyone from the history buff and the outdoor enthusiast to the naturalist or Native art lover, there aren't enough days in a week to take them all in!
Creek Street in Ketchikan
Ketchikan has a population of 14,500 and is built along a steep hillside, with sections of the town built right over the water on pilings. The downtown area is the main commercial district and contains two large harbors, several cruise ship docks, and many of Ketchikan's main attractions, including historic Creek Street, a boardwalk road built over Ketchikan Creek on pilings. The city center is best viewed from Ketchikan's Waterfront Promenade that skirts the busy shoreline and is equipped with historical markers and whale-tail benches for visitors to rest and take in the view.
Native Alaskan culture
Whether you're interested in Native Alaskan culture, the early pioneers who settled Southeast Alaska, local artists, shopping, fishing, or the great outdoors, you can find your perfect day right here in Ketchikan. And the best part is, no matter what you do, you will be surrounded by nature on all sides! An outstanding collection of totem poles make a visit to Ketchikan essential for anyone interested in Native art. Ketchikan's name supposedly comes from the native term "Katch Kanna", which roughly translates: "spread wings of a thundering eagle" and rightly named, for you only need to look along the water line and you're likely to see many bald eagles on waterside perches.
Salmon capital of the world
Ketchikan is well known as the salmon capital of the world and a paradise for sport fishermen and naturalists alike. During the summer months, Ketchikan bustles with visitors from all over the world. While the rustic boardwalk on Creek Street preserves a distinct historic feel, the town hums with new construction to keep up with the ever-expanding wave of tourism.
Ketchikan totem poles
Ketchikan is home to the largest collection of totem poles in the world, including some of the oldest ones still in existence. The very oldest are in climate-controlled seclusion and some are in private collections, but you can see the majority of them scattered throughout town, at the Totem Heritage Center or at one of our beautiful totem parks.