Welcomr to Icy Strait Point.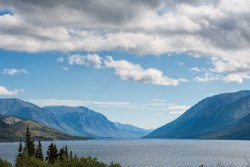 Icy Strait Point is a privately owned tourist destination just outside the small village of Hoonah, the largest native Tlingit Indian settlement in Alaska. It is located on Chichagof Island and is named after the nearby Icy Strait. Owned by Huna Totem Corporation, it is the only privately owned cruise destination in Alaska, as most stops are owned by the cities in which they are located. Huna Totem Corporation is owned by approximately 1,350 Alaskan Natives with aboriginal ties to Hoonah and the Glacier Bay area. For thousands of years, the Tlingit Indians have called this place home, so many of them are of the Tlingit people.
The corporation purchased the site in 1996, and Icy Strait Point was first opened for cruise ships in 2004, with Royal Caribbean International and its sister outfit Celebrity Cruises being the two lines to initially make use of it. They would continue to be the main lines there, but subsequently Princess Cruises began making some stops there for several years, as well as Oceania Cruises, Regent Seven Seas Cruises, and Norwegian Cruise Line.
As one of the best places in the world to see whales, and a darn good spot to view bears, Icy Strait/Hoonah is among Alaska's most beloved destinations for wildlife enthusiasts. Icy Strait offers pretty woodland walks, an insight into Tlingit history and culture, a wide range of back-to-nature adventures and high-quality restaurants. Upmarket craft shops feature artisan crafts and locally made goods like woodland berry jam and confectionery. Buildings are constructed from sustainable local timber and built by local Tlingit workers in traditional style.
Get out in nature, view Glacier Bay from the air, cruise with the whales, search for coastal brown bears on the nearby Spasski River, listen to Tlingit Native stories, go Kayaking, experience Tlingit culture, book a charter fishing excursion, watch the wildlife, bald eagles ride the world's longest ZipRider, or do it all.
ZipRider – Icy Strait Point
Icy Strait Point features the world's largest ZipRider, with six 5,330' ziplines dropping 1330'. After launching, you will quickly accelerate to speeds exceeding 60 mph as you soar 300 feet above the rainforest below. If you are looking for a one-of-a-kind experience, then the ZipRider is for you. With up to six guests descending at once, this is also a great family or group activity