7-day cruise to Sitka, Juneau, Icy Strait Point, Ketchikan and Victoria with NCL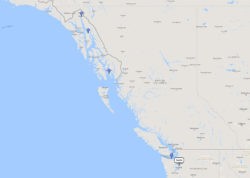 Cruising from: Seattle, Washington;
Departure Date: September 21, 2024;
Duration: 7-day cruise;
Cruise Line: Norwegian Cruise Line;
Cruise Ship: Norwegian Bliss;
Ports of Call: Seattle, Sitka, Juneau, Icy Strait Point, Ketchikan, Victoria, Seattle;
Experience the journey of a lifetime when you cruise with Norwegian Bliss
Day 0
With two centrally-located cruise terminals and easy airport connections, Seattle has become America's premier cruise port both before and after trip. Often known as "The Emerald City," Seattle is a vibrant metropolis that serves as a gateway to the region's stunning natural wonders. The Seattle[…]
Day 1 – At Sea cruising
Aboard Norwegian Bliss you will experience the best dining, entertainment and amenities at sea against a backdrop of unrivaled natural beauty.
Day 2
From May through September, Sitka serves as a popular stop for cruise ships traveling the Inside Passage. Huge cruise ships dock at sea, and smaller boats take people to the Crescent Harbor Lightering Facility or the O'Connell Bridge Lightering Facility. Sitka is one of the[…]
Day 3
Juneau, often described as America's most unusual state capital, is the only center of U.S. government with no roads leading into or out of town. The city is surrounded by nature, namely towering mountains and the waters of Gastineau Channel. The modern city of Juneau is[…]
Day 4
Just outside the small village of Hoonah, which has Alaska's largest native Tlingit Indian population, is the privately owned port of adventure known as Icy Strait Point. It's named after the neighboring Icy Strait, and you'll find it on Chichagof Island. Tlingit Indians have lived[…]
Day 5
Due to its position at the southern end of the Inside Passage, Ketchikan is often referred to as Alaska's "first city." Ketchikan welcomes tourists from all around the world during the summer. It's the starting point for most cruises to Alaska and the first place many[…]
Day 6
The capital of British Columbia, Victoria, is occasionally used as a cruise port during the Alaska cruise season. This is especially true at the beginning and conclusion of the season, when cruise companies offer special itineraries as they relocate their ships from the south to[…]
Day 7
It doesn't get much better than setting sail from Seattle. Due to the abundance of attractions, you should set aside as much time as possible to experience it all. Here, though, are some suggestions for making the most of your time on dry land in[…]
---
Enjoy a seven-night Alaska Highlights roundtrip cruise from Seattle through the beautiful Inside Passage, exploring fjords, glacial valleys, and untouched wilderness with Norwegian Cruise Line. Discover Ketchikan, Juneau, Icy Strait Point and Victoria with NCL' cruise ship Norwegian Bliss. Norwegian Bliss leaving Seattle for 7 nights from September 21, 2024.