Vacations to the Northern Lights in Alaska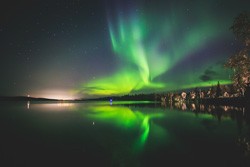 Alaska is a seasonal cruise destination, with major cruise ships passing through the state between early May and late September. The Northern Lights are brilliant colors that flash across the dark night sky, invoking a sense of wonderment in any spectator who has ever seen them. Even though the best chance to see the lights is the dead of winter, scientists and cruise passengers say it's possible to spot the phenomenon any time of year.
Types of Northern Lights Cruises
Find an itinerary from cruise companies, such as Regent Seven Seas, Silversea, Holland America, Celebrity, Princess, Royal Caribbean, Carnival, Norwegian, Niche Cruise Lines and Cruise West. Cruise lines like Regent Seven Seas or Celebrity offer world-class cuisine, with local dishes like seal or Alaskan salmon. Your bedding accommodations on the upscale lines include the most comfortable linens and more spacious cabins.
Mainstream ships like Royal Caribbean, Norwegian and Carnival offer more onshore activities and on-board entertainment options. However, you may have a better chance of seeing the Northern Lights if you take a smaller cruise like Cruise West.
The most popular itinerary is the inside passage cruise which departs from Seattle, Victoria or Vancouver and features breathtaking scenery before stopping in port of calls like Juneau, Seward, Ketchikan, Skagway, Whittier, Haines or Sitka. The Fairbanks area is the most likely place to see the Northern Lights on any given night, but you can also spot them close to Anchorage in the north or Ketchikan in the south.
Best time to witness the Northern Lights
The best time to witness the Northern Lights is in the dead of winter, from 11:30 p.m. to 3:30 a.m., with peaks around 1:30 or 2:30 a.m. However, some say you can catch a brief glimpse of the Northern Lights 240 nights a year, especially during March, September and October. Your best hope is for a clear, cloudless night. Other ideal times include the equinoxes around September 22 and March 22. According to the Geophysical Institute, spring is twice as good as the fall for clear skies, with the best viewing around the new moon in March. The last two weeks of August and first three weeks of September are usually the clearest, if you must come in the fall.
You'll meet a lot of nature lovers aboard an Alaskan Northern Lights cruise. There are honeymooners, photographers and veteran travelers who've seen it all. A magical glimpse of the green, blue and red lights is an unforgettable experience. In addition to the Northern Lights, Alaskan cruises offer a glimpse at rarely seen wildlife like polar bears, seals, whales and reindeer. The changing of the seasons bring wildflowers in the springtime and colored leaves in the fall, but you can also see never-melting glaciers rising up out of the arctic waters.