Alaskan Fishing Adventures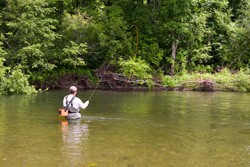 Fishing in Alaska comes in multiple flavors. Alaska offers some of the most spectacular freshwater, saltwater, fly- and even ice fishing in the world. With over three million lakes, 12,000 rivers and thousands more fish-filled streams, you can see the challenge isn't catching fish, but deciding where and what to catch.  It's easy, affordable, and takes only a few hours. With 34,000 miles of coastline and countless pristine lakes and rivers, Alaska fishing is something you can fit in anywhere on your itinerary.
Tens of thousands of people harvest and feast on salmon, halibut, crab, trout, and other varieties of finfish and shellfish under subsistence, personal use, and sport fishing regulations. You'll likely be going after the big two: salmon and halibut. The five species of salmon range from pan-size to nearly 100 pounds, while halibut can weigh hundreds of pounds.
Alaska offers four types of fishing. Sport fishing is open to anyone in virtually all of Alaska, while commercial, subsistence, and personal use fishing are limited to certain areas, certain types of gear, or just to Alaska residents.
Guides, lodges and charter operators provide residents and visitors with memorable fishing experiences and contribute significantly to Alaskan tourism industry and economy.  It can be as easy as pulling off the side of the road and casting a line, or you can charter a boat or float plane to whisk you off to a secluded fishing spot where you can reel in one of the more than 627 species that inhabit the Alaskan waters, including a variety of salmon, trout, halibut, arctic char, pike, grayling and Dolly Varden.