Viewing the Northern Lights in Fairbanks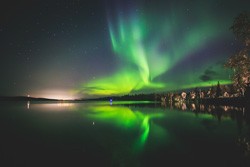 Welcome to Fairbanks, Alaska one of the best places on earth for experiencing the beautiful and mysterious northern lights. Bright, energetic curtains of yellow, green, red or even purple light brighten Fairbanks night skies regularly. Fairbanks is situated within a ring-shaped region around the North Pole called the auroral oval,  just 188 miles south of the Arctic Denali, known to Fairbanksans as Mt. McKinleyCircle. The shortest winter day of the year has less than three hours of sunlight, the longest (around June 21) never really ends, though officially it has over 21 hours.
The city of Fairbanks
Fairbanks sits at the confluence of the Richardson Highway, George Parks Highway, Steese Highway and Elliott Highway, which is why it's known as a hub city. An international airport also serves Fairbanks with frequent flights from within Alaska as well as from the Lower 48 and even countries like Japan and Germany. The Alaska Railroad offers service from Anchorage via Denali National Park.
Fairbanks is one of Alaska's best year-round destinations, and visitors will find plenty to do whether they come for the long, warm summer days or to watch spectacular northern lights displays color the night sky in winter. Hotels and lodges near Fairbanks offer winter Northern Lights packages, and at most of them you can ask the front desk to call and wake you up if the aurora appears.
Viewing Northern Lights are outside Fairbanks
The best places for viewing Northern Lights are outside town, away from the city lights. At Ester Dome, you can get a view from horizon to horizon. Ask for directions locally and head up there during the day so you know your way. It's completely unlit at night. In town, try to get away from the lights. Many visitors head for the middle of the Ranch Motel's second parking lot.
If you'd prefer a more organized (and warmer) approach to Northern Lights viewing, the Aurora Borealis Lodge offers evening tours to a location 20 miles away from the city lights, where you can watch the Northern Lights inside where it's warm.
Experience the aurora boreallis from a heated "aurorium" cabin, on an overnight sled dog trip, by snow cat tour to a panoramic vista, in a horse drawn sleigh, on a flight above the Arctic Circle, or simply walk outside and look up to see the captivating northern lights weave their way across the night sky. If the Northern Lights appears in the middle of the night, many hotels offer wake-up calls so you won't miss a moment. The longer you stay, the better your chances of viewing a once in a lifetime display of Northern Lights!