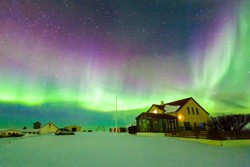 Located fewer than 120 miles south of the Arctic Circle, Fairbanks is the largest city in Alaska's Interior area and the state's second-largest city after Anchorage. Fairbanks is one of the best spots on the planet to witness the stunning and enigmatic northern lights.

While the Northern Lights can be seen throughout Alaska, Fairbanks is the most reliable location. It is frequently cited as the greatest site in the United States to see the Northern Lights. Actually, Fairbanks is physically located below the "aurora oval," where auroras are most regularly observed. However, a continental environment provides many more clear evenings than a coastal climate. As a result, location provides an excellent balance of frequency, occurrence, and activity.
Firebank's night sky is routinely illuminated by dazzling, active curtains of yellow, green, red, or even purple light. Because you can only view them at night, you should visit between September and April, when there is the maximum darkness. The best viewing times are late at night until early in the morning.