Alaskan Adventures
With awe-inspiring scenic beauty, enormous ice-age glaciers and abundant wildlife, Alaska is like nowhere else on earth. You'll find a wide variety of activities in Alaska, everything from the mild to the wild. The very best experiences occur in May and June. You are much more likely to enjoy clear, sunny days with far less rain. The temperature in mid May is only 6 degrees cooler than June Most people aren't aware that coastal Alaska is a rain forest. May and early June departures have the least rain to obscure the breathtaking views. Higher pricing in July and August has nothing to do with weather, but rather families traveling with children when they are not in school, creating more demand.
Cruise to a Glacier
Come see the ancient, enormous rivers of ice that sculpted Alaska's mountains. You can get up close to glaciers on cruise tours and day cruises in many areas of Alaska including Glacier Bay, Kenai Fjords and Prince William Sound. These trips offer a wonderful glimpse of coastal Alaska with its dramatic mountain scenery and tidewater glaciers.
The marine wilderness of Glacier Bay National Park and Preserve includes tidewater glaciers, snow-capped mountain ranges, ocean coastlines, deep fjords, and freshwater rivers and lakes. This diverse land and seascape hosts a mosaic of plant communities and a variety of marine and terrestrial wildlife.
Watch the Wildlife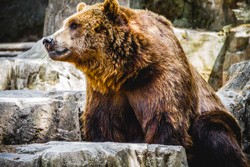 If you want to see wildlife, Alaska is the place to visit. Bald eagles gather by the hundreds, moose cause traffic jams and millions of salmon spawn in its rivers. Take a guided tour through a national park or wildlife refuge to see moose and caribou or a boat tour to see otters, whales and porpoises. No matter where you go, you'll find an amazing variety of watchable wildlife.
In May and early June the animals graze in the lowlands on the coast. As the snow on the mountains melts in late June and July, clouds obscure your views and the animals move up the mountains to graze. Also, the seals and whales are at their peak in early spring. Whales are migrating and feeding, so your chances are much better to see them. Seals are bearing their new pups.
Explore the Wilderness
In Alaska you can explore the wilderness by day and sleep in a warm bed at night. Guided trips and tours take you to a variety of remote – or not so remote — places where you can enjoy almost any outdoor interest. Stay at a backcountry lodge for fly-fishing and bear watching, or join an expedition to one of Alaska's remote parks forests or refuges.
Take a Breathtaking Drive
Driving in Alaska is an unforgettable experience. Spectacular views, pristine lakes and towering mountains are all part of the Alaska driving experience. Looking for adventure? Fly to Alaska and rent a car or RV. You'll find 3 routes that have been designated National "Scenic Byways;" the Glenn and Seward Highways, with road accessible glaciers, and the Alaska Marine Highway, a unique ferry route connecting 3,500 miles of coastal waterways.
Nothing compares to the total exhilaration of soaring above some of the most incredible scenery the world offers. Board a helicopter for the adventure of a lifetime as you fly over Mendenhall Glacier, Juneau's Ice Field and breathtaking mountains. Then, your helicopter will land on a glacier and your pilot will guide you on an interpretive walk on its surface! Glacier boots are provided for this truly memorable experience you won't want to miss.
Visit the Country's Largest National Park
Alaska is home to 17 national park areas, which is two-thirds of the land in the entire national park system. From mountain ranges and volcanoes to wild rivers and vast tundra, Alaska's parklands offer an array of recreation and sightseeing opportunities. Visit Wrangell-St. Elias, our country's largest national park, and see the best remaining example of a 20th century copper mining town.
Go Flightseeing
Flying is a way of life in Alaska and a trip to Alaska would not be complete without a flightseeing excursion. Get a bird's eye view of this great land as you circle majestic Mt. McKinley, take a floatplane to a wilderness lodge or land on a glacier in a helicopter.
Explore Alaska's rich history and unique cultures
Native and cultural diversity abounds in Alaska. Each region contains its own unique peoples and customs. From traditional music and dance to beautiful Native art, there are many opportunities for Alaska visitors to experience Alaska's culture and history.