Welcome to Victoria, the capital of British Columbia.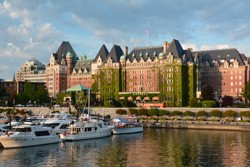 British Columbia's capital, is an occasional Cruise Port during the Alaska cruise season, especially at the beginning or the end of the cruise season, when cruise lines have unique itineraries as they reposition their ships from the south to the north, or vice versa.
The cruise terminals at Ogden Point are 1.49 miles from the city center of Victoria and there are tourist information desks, currency exchange, restaurants and taxis. The shuttle bus for $10 is from the cruise terminal to downtown; and a bit off a rip-off; given a taxi is under $10 for 2-4 people; it's a 15 minute walk; or the city bus is $2.25.
Victoria sits on the craggy southern end of Vancouver Island. With a mild climate and an abundance of trails and parks – including sprawling, amusement-filled Beacon Hill – it's a destination for outdoor activities. Its beginnings as a British colony show in its Victorian architecture, such as stately Craigdarroch Castle mansion, as well as in its many formal gardens.
Victoria boasts many historic buildings and some of the best museums in Western Canada. Victoria is a unique blend of old world charm and new world experiences. As an island destination, Victoria offers visitors an escape from the hurried world and beams with ambiance. In Victoria, heritage architecture, colourful gardens and traditions like afternoon tea mix with outdoor adventure, authentic culinary experiences and enviable cocktail and craft beer scenes.
Things to do in Victoria, British Columbia
Devote a day to Victoria's picturesque Inner Harbour. Here you'll find popular sites like the Parliament Buildings and the Royal British Columbia Museum, as well as cafés and restaurants boasting wonderful views of the water. After you've exhausted central Victoria, get a feel for British Columbia's natural side: Spend some time at the renowned Butchart Gardens, hike through Goldstream Provincial Park or enjoy a ferry ride to nearby Sooke (and keep your eyes peeled for whales). Just make sure you save an afternoon for the Cowichan Valley, where dozens of small vineyards offer tours and tastings.