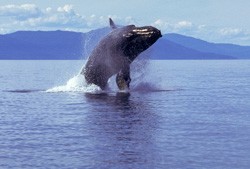 The Puget Sound region is a coastal area of the Pacific Northwest in the U.S. state of Washington, including Puget Sound, the Puget Sound lowlands, and the surrounding region roughly west of the Cascade Range and east of the Olympic Mountains. Seattle, the state's largest city, lies in the center of the Puget Sound region and sits between Elliot Bay and Lake Washington. Across the Sound is Bainbridge Island, the Kitsap Peninsula and Olympic Peninsula. To the east, and across Lake Washington, is Seattle's near neighbor Bellevue. Other major cities situated on the Sound include Everett, Olympia and Tacoma. On the west side of the Sound are the cities of Bremerton, Port Orchard and Shelton.
Puget Sound is the second largest estuary in the United States. The Puget Sound estuary is an arm of the Pacific Ocean that extends inland where it meets 19 different river basins. The Sound experiences tidal flows and there is a changing mixture of fresh and salt waters. The Puget Sound region includes all the water that falls on the Olympic and Cascade Mountains and flows to meet the Sound's marine waters. It covers the land and waters in the northwest corner of Washington State – from the Canadian border to the north to the Pacific Ocean on the west, including Hood Canal and the Strait of Juan de Fuca.
The Puget Sound area offers a rich variety of vacation, recreational and holiday pursuits including big-city life, island retreats, cozy bed and breakfasts, romantic country inns and first-class resorts. There is plenty of sightseeing, hiking, kayaking, and boating activities to keep in shape and make one wish for a longer Puget Sound holiday.