Cruises to Juneau.
Juneau, often described as America's most unusual state capital, is the only center of U.S. government with no roads leading into or out of town. The city is surrounded by nature, namely towering mountains and the waters of Gastineau Channel. For most visitors, the only way in or out is by air or sea.
Alaska's state capital Juneau.
Juneau is located in the Panhandle of Southeast Alaska, 900 air miles north of Seattle and 600 air miles southeast of Anchorage. The current population of Juneau is 33,026. The economy is based on government, tourism, mining, and fishing. Juneau is one of the most beautiful state capitals in the nation.
Downtown Juneau sits snugly between Mount Juneau, Mount Roberts and Gastineau Channel, and is a maze of narrow streets running past a mix of new structures, old storefronts and quaint houses featuring early 19th century architecture left over from the town's early gold mining days. The waterfront bustles with cruise ships, fishing boats and floatplanes zipping in and out. With no road access to Juneau, it is the only state capital in the United States that can only be reached by airplane or boat.
Experience Mount Roberts Tramway!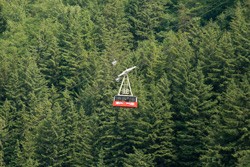 This is more than just a cool ride, The Goldbelt Mount Roberts Tramway takes you 1,800 feet high and then lets you explore a park offering cultural heritage education, dynamic crafts and some amazing, expansive views. It's Juneau's most panoramic and breathtaking view!
Juneau's lively downtown is compact, easy to navigate on foot and always a favorite with visitors. Within easy walking distance of the cruise ship docks are many of Juneau's main attractions, including the state capitol building, Saint Nicholas Russian Orthodox Church, several museums and historic South Franklin Street, where turn-of-the-century buildings today are gift shops, restaurants and pubs. Also nearby is the Juneau Convention & Visitors Bureau with visitor information, displays and walking tour maps of the city.
Discover Juneau, Alaska's capital city by antique trolley
Nestled between stunning mountain vistas and winding waterways, the modern city of Juneau is reminiscent of the old west. From the colorful port, to the busy capitol building, to the stunning views from Douglas Island, this unique city has a surprise around every corner.