Humpback Whale Watching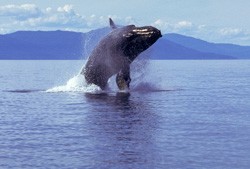 Frederick Sound or Prince Frederick Sound is a passage of water in the Alexander Archipelago in southeastern Alaska. It separates Kupreanof Island to the south from Admiralty Island in the north. Frederick Sound is a popular location for watching whales and has excellent opportunities for fishing.
Frederick sound is one of the best environments in the entire world for studying and observing the feeding habits of the humpback. There are an estimated six thousand humpback whales that make their home in the North Pacific. Of that number, over half of those enter the Fredericks sound area for the summertime, with the best viewing opportunities during July and August.
Viewing Opportunities
Humpback whales are the main attraction on your visit to Fredericks Bay Alaska, but you can also look forward to stellar's sea lions, to the dall porpoise, and the many orca's which inhabit the area, as well as harbor seals.