San Francisco is home to a little bit of everything.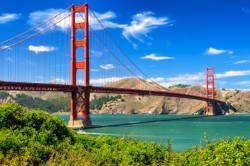 A world-renowned destination, San Francisco is a compact city of world-class culture, historical landmarks, award-winning dining, outdoor adventures and nightlife, all wrapped up by a sparkling bay flanked by the famous Golden Gate Bridge, visible from historic cable cars that ply the hilly streets. Even the unpredictable fog adds to the beauty.
Cruise Terminal San Francisco
The Port of San Francisco lies on the western edge of the San Francisco Bay near the Golden Gate. It has been called one of the three great natural harbors in the world. The Port of San Francisco hosts over 80 cruise ship calls and 300,000 passengers annually at new James R. Herman Cruise Terminal at Pier 27 opened in August 2014 as a replacement to Pier 35. The modern terminal has electric shore power, larger holding areas, and secure customs screening.
Pier 35 had neither the sufficient capacity to allow for the increasing length and passenger capacity of new cruise ships nor the amenities needed for an international cruise terminal. Itineraries include round trip cruises from San Francisco to Alaska, Hawaii, and Mexico, as well as repositioning calls and coastal voyages in the spring and fall.