Welcome to Prince Rupert, Canada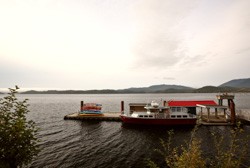 Located on Kaien Island, Prince Rupert is a port city in the province of British Columbia is part of the Alaska cruise theatre, at the mouth of the Skeena River, 500 miles north of Vancouver and 40 miles south of the Alaska border and 65 miles south of Ketchikan. Prince Rupert is the land, air, and water transportation hub of British Columbia's North Coast, and has a population of 12,508 people. Though not actually located within the State of Alaska, Prince Rupert has been a popular stop on many Alaskan cruise itineraries. Main attractions in the port town include spectacular ocean fishing; cultural tours, whale-watching tours and grizzly bear-viewing tours; and enjoying amazingly fresh seafood at Prince Rupert's various restaurants.
First Nations communities have lived in Prince Rupert for more than 10,000 years, and this cultural heritage is a popular experience for visitors today. The rich history and natural beauty of Prince Rupert and the surrounding area are the main draws for visitors. If it's wildlife you seek, Prince Rupert is a dream location, home to Canada's only Grizzly Bear Sanctuary, the highest concentration of humpbacked whales in North America, white Kermode bears and soaring eagles.
Tourism is growing rapidly in Prince Rupert with the expansion of cruise ship traffic and locally with an emphasis on sportfishing. Kwinitsa Railway Station Museum, in one of the last remaining stations of the GTPR (built circa 1912), depicts Prince Rupert's development. The Museum of Northern British Columbia, a tour of Pike Island, provide exceptional insights into the First Nations culture and history. The city's cultural venue is the Performing Arts Centre. Prince Rupert is home to 2 post-secondary campuses: Northwest Community College and University of Northern British Columbia.