Welcome to Anacortes, Washington, United States.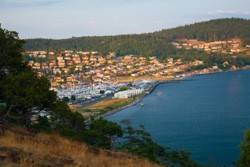 Anacortes, a beautiful waterfront city is homeport to the San Juan Islands in the Pacific Northwest. Located on Fidalgo Island, it is conveniently situated halfway between Seattle and Vancouver BC and is the destination point for the San Juans and International ferry runs for Washington State. Anacortes is a city in Skagit County, Washington, United States. Anacortes is located approximately 75 miles north of Seattle, about 95 miles south of Vancouver, British Columbia, Canada and only 20 minutes from Interstate 5. The name "Anacortes" is a consolidation of the name Anna Curtis, who was the wife of early Fidalgo Island settler Amos Bowman.
San Juan Islands
The city is known for providing access to the San Juan Islands by way of ferry boat. Passenger ferries depart daily from Anacortes' ferry docks, providing smooth, safe, scenic transportation to four of the San Juan Islands: Lopez, Orcas, San Juan, and Shaw. The City of Anacortes also provides access to Whidbey Island by a bridge through Deception Pass.
Whale watching
Anacortes serves as home port to one of the world's largest whale watching fleets, with two daily sailings in prime-time. Each sailing typically lasts a half-day, during which riders are treated to a wonderful introduction to the beauty of the San Juan Islands. Educators provide a running commentary about geography, island history, and Puget Sound's rich biology.