The Inside Passage Cruises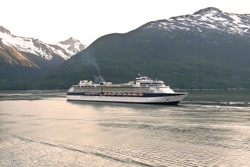 The Inside Passage is a coastal route for oceangoing vessels along a network of passages which weave through the islands on the Pacific coast of North America. The route extends from southeastern Alaska, in the United States, through western British Columbia, in Canada, to northwestern Washington state, in the United States. The Inside Passage is heavily travelled by cruise ships, freighters, tugs with tows, fishing craft and ships of the Alaska Marine Highway, BC Ferries, and Washington State Ferries systems.
Shaped by the staggering force of massive glaciers millions of years ago, Alaska's Inside Passage boasts wildlife-filled fjords and lush island scenery — habitat for bald eagles, sea lions, porpoises and whales. Its mountains are carpeted with majestic forests. Inside Passage Alaska is home to Tlingit, Haida and Tsimshian Indians whose history is reflected in towering totem poles. Russian settlers left a legacy of onion-domed churches gleaming with icons.
Cruising is likely what will bring you to this region of temperate rainforests, glaciers, fjords, and coastal mountains. It's heavily trafficked during the summer months, with visitors exploring the waterways, small islands, and coastal towns on cruise ships. But independent travelers can get around just as well, using ferries, water taxis, and island-hopping planes. You can't miss all the glaciers, or the huge populations of whales, sea lions, and seals. Alaska's capital, Juneau, is the main city draw here. Head to Sitka to experience the state's Russian influence, and check out native Alaskan totem collections there and in Ketchikan.
This protected waterway is one of the most scenic in the world and one of the few locations where deep-draft vessels can sail close to steep mountain walls. Massive tidewater glaciers, forest-clad islands, ice-carved fjords, and charming coastal towns such as Juneau, Ketchikan, Haines and Skagway await you here. On small ship cruises, you'll visit even more intimate ports of call.
Clean water is what makes Southeast Alaska strong. Which is why in the summer of 2014, the Southeast Alaska Conservation Council initiated its Inside Passage Waterkeeper program to focus exclusively on our most sacred resource.
Inside Passage Waterkeeper is part of the International Waterkeeper Alliance, an alliance of small, grassroots groups who care for, protect, and restore their local bodies of water. The Southeast Alaska chapter is focused only on local issues with an advisory council of Southeast fishermen, fish eaters, Alaska Native tribal members, and biologists. Its mission is straightforward and simple: to keep Southeast Alaska's clean water clean.