7-day Alaska cruise to Stikine Icecap, Skagway, Juneau and Ketchikan with Disney Cruise Line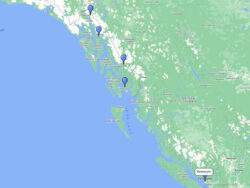 Cruising from: Vancouver, Canada;
Departure Date: September 9, 2024;
Duration: 7-day cruise;
Cruise Line: Disney Cruise Line;
Cruise Ship: Disney Wonder;
Ports of Call: Vancouver, Stikine Icecap, Skagway, Juneau, Ketchikan, Vancouver;
Experience wildlife, wilderness, and native culture on this Alaska cruise with Disney Wonder
Day 0
Vancouver is ideally located and easily accessible, making it the perfect home port from which to embark on or return from an Alaska cruise. It is constantly named as one of the world's most attractive cities. Over 800,000 cruise passengers pass through the Port of[…]
Day 1 – At Sea cruising
Set sail from cosmopolitan Vancouver, Canada, and behold the arctic grandeur of Alaska and the unspoiled Inside Passage on board Disney Wonder.
Day 2
Enjoy a magnificent cruise across the Stikine Icecap, which is about 45 miles south of Juneau, Alaska. Stikine Ice Cap, a massive ice field in the Alaska Panhandle region close to the Coast Mountains. It is the primary source of water for the Taku and[…]
Day 3
In Skagway, Alaska, the sounds of barroom pianos and boomtown crowds reverberate into the night, while shouts of "gold in the Yukon" still reverberate from the canyon walls. Skagway, Alaska, is the most northern place in Southeast Alaska. It is 80 air miles from Juneau,[…]
Day 4
Juneau, often described as America's most unusual state capital, is the only center of U.S. government with no roads leading into or out of town. The city is surrounded by nature, namely towering mountains and the waters of Gastineau Channel. The modern city of Juneau is[…]
Day 5
Due to its position at the southern end of the Inside Passage, Ketchikan is often referred to as Alaska's "first city." Ketchikan welcomes tourists from all around the world during the summer. It's the starting point for most cruises to Alaska and the first place many[…]
Day 6 – At Sea cruising
Aboard Disney Wonder you will experience the best dining, entertainment and amenities at sea against a backdrop of unrivaled natural beauty.
Day 7
Vancouver is ideally located and easily accessible, making it the perfect home port from which to embark on or return from an Alaska cruise. It is constantly named as one of the world's most attractive cities. Over 800,000 cruise passengers pass through the Port of[…]
---
Enjoy a seven-night Alaskan roundtrip cruise from Vancouver through the beautiful Inside Passage, exploring fjords, glacial valleys, and untouched wilderness with Disney Cruise Line. Visit Stikine Icecap, Skagway, Juneau and Ketchikan with Disney Wonder. Disney Wonder leaving Vancouver for 7 nights from September 9, 2024.