Cruises from Seward.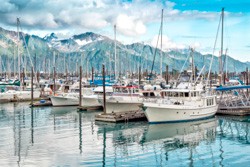 Seward offers an unbeatable year round quality of life environment to attract residents, visitors and employees. The spectacular mountain and bay scenery, with abundant land-based and marine wildlife coupled with immediate access to pristine areas for hiking, mountain biking, mountain climbing, cross country skiing, snow machining, camping, fishing, white water rafting, dog mushing, sea kayaking, cold water scuba diving and other outdoor activities make the City of Seward a year round outdoor playground for all ages.
Seward is a city in Kenai Peninsula Borough in the U.S. state of Alaska. Situated at the head of Resurrection Bay on the Kenai Peninsula, at the terminus of both the Alaska Railroad and the Seward Highway, and an embarkation/disembarkation port for many cruises, this town of 2,619 residents is easily accessible from Anchorage. Seward offers a great selection of tours, cruises and activities to choose from. By far the most popular trip is a day cruise into Kenai Fjords National Park. Abundant marine wildlife and awesome glaciers make this an Alaska cruise you do not want to miss.
Kenai Fjords National Park
At the edge of the Kenai Peninsula lies a land where the ice age lingers. Nearly 40 glaciers flow from the Harding Icefield, Kenai Fjords' crowning feature. Wildlife thrives in icy waters and lush forests around this vast expanse of ice. Native Alutiiq relied on these resources to nurture a life entwined with the sea. Today, shrinking glaciers bear witness to the effects of our changing climate.
Resurrection Bay
Perfect for families and just the right length to allow time for other activities in Seward, Resurrection Bay Wildlife Tour, with an exclusive visit to Fox Island for an all you can eat wild Alaskan salmon and prime rib, is always a great choice!
Hike to Caines Head
From Resurrection Bay, you can also walk the mile-long beach or trek the five-mile coastal trail to Caines Head, rated one of Alaska's top 10 hikes.
Getting Hands-On at Exit Glacier
Alaska's most accessible glacier lies just 10-15 minutes from Seward, and a gentle half-mile trail leads you close enough to Exit Glacier to touch.