Port of Seattle.
With two centrally-located cruise terminals and easy airport connections, Seattle has become America's premier cruise port both before and after trip.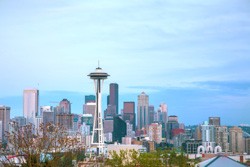 The bustling Seattle, known as the "The Emerald City" is both a culturally rich metropolis and a gateway to beautiful natural attractions. In the shadows of the widely recognized Space Needle, the Seattle Center is home to the city's sports arena and many museums and theaters. The lively Pike Place Market and the mammoth "Hammering Man" sculpture are downtown must-sees. Visitors also flock to the waterfront for fresh seafood, the Harbor Steps park or to board a ferry bound for Puget Sound.
Seattle can't be beat as a point of departure for your Alaska or Pacific Northwest cruise. With downtown cruise terminals and convenient air travel connections, Seattle makes cruising fun and exciting both before and after your cruise. You can select your cruise adventure from 11 premier ships and from 7 different cruise lines arriving and departing from Seattle at two cruise terminals, Smith Cove Cruise Terminal Pier 91 and Bell Street Pier 66 Cruise Terminal. In 2015 alone, Seattle will host 192 cruise ships and more than 895,000 passengers, so you'll be in great company.
Cruise Lines that embark/disembark from Seattle
Seattle tourist information. If you're cruising out of Seattle, you couldn't be luckier. There's so much to see and do, you'll want as much time as possible to explore. But whether you have a a few hours or a few days, here's how to enjoy the[…]
On Site Cruise Parking Located at the Cruise Terminals Republic Parking's operating experience has expanded through the years as a direct result of our ability to satisfy the transportation management related needs of our clients and their customers. Republic Parking is a full service transportation[…]